UltraGirl: Cat Snatched!
featured image © 2022 JIMWEATHERSARCHIVES.COM
starring Randy Moore in her first appearance as UltraGirl
produced by Jim Weathers
original release date: 10/14/2022
written by SH Binder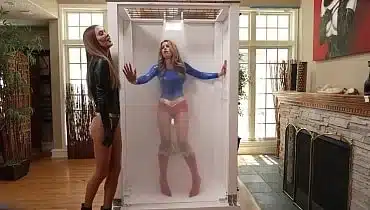 UltraGirl: Cat Snatched! Part 1
UltraGirl (Randy Moore) is sitting at home, trying to figure out what the Black Cat (Star Nine) is up to. She gets a call from the Mayor's office. The Mayor's daughter has been taken by the Black Cat. UltraGirl goes into action and arrives to find the daughter tied standing in a box. She runs to the door and opens it, only to find that it was just a hologram. Before she can react, the Black Cat shoves her in the box and locks her inside! Gas fills the compartment and UltraGirl is overcome.
She awakens to find herself bound to the doggy cart. Black Cat enters and explains that this device will wear UltraGirl down to the point where she will submit to her. UltraGirl refuses, and is gagged, and left to come over and over and over. 'What fate awaits UltraGirl?!
UltraGirl: Cat Snatched! Part 2
Having endured Black Cat's (Star Nine) Doggy Cart in episode 1 (Vid #1422), UltraGirl (Randy Moore) finds herself tied outside with Black Cat's fiendish Cat's Whiskers. Find strands that will slowly constrict around her struggling body. Staked out on the grass, UltraGirl helpless squirms as the fibers tighten. Black Cat leaves her to her fate. In the very nick of time, the sprinklers go off, freeing UltraGirl for the diabolical trap.
screencaps and clips © 2023 JIMWEATHERSARCHIVES.COM